Welcome to the banks of the Willowemoc, the woods of Catskill Park and fields full of wildlife and flora at Antrim Streamside. We are a new hospitality destination featuring private water on the Willowemoc, with accommodations that can easily sleep 20 people in 6 different, simple but elegant, lodging options, and over 250 acres of nature to enjoy. (Click here for Directions)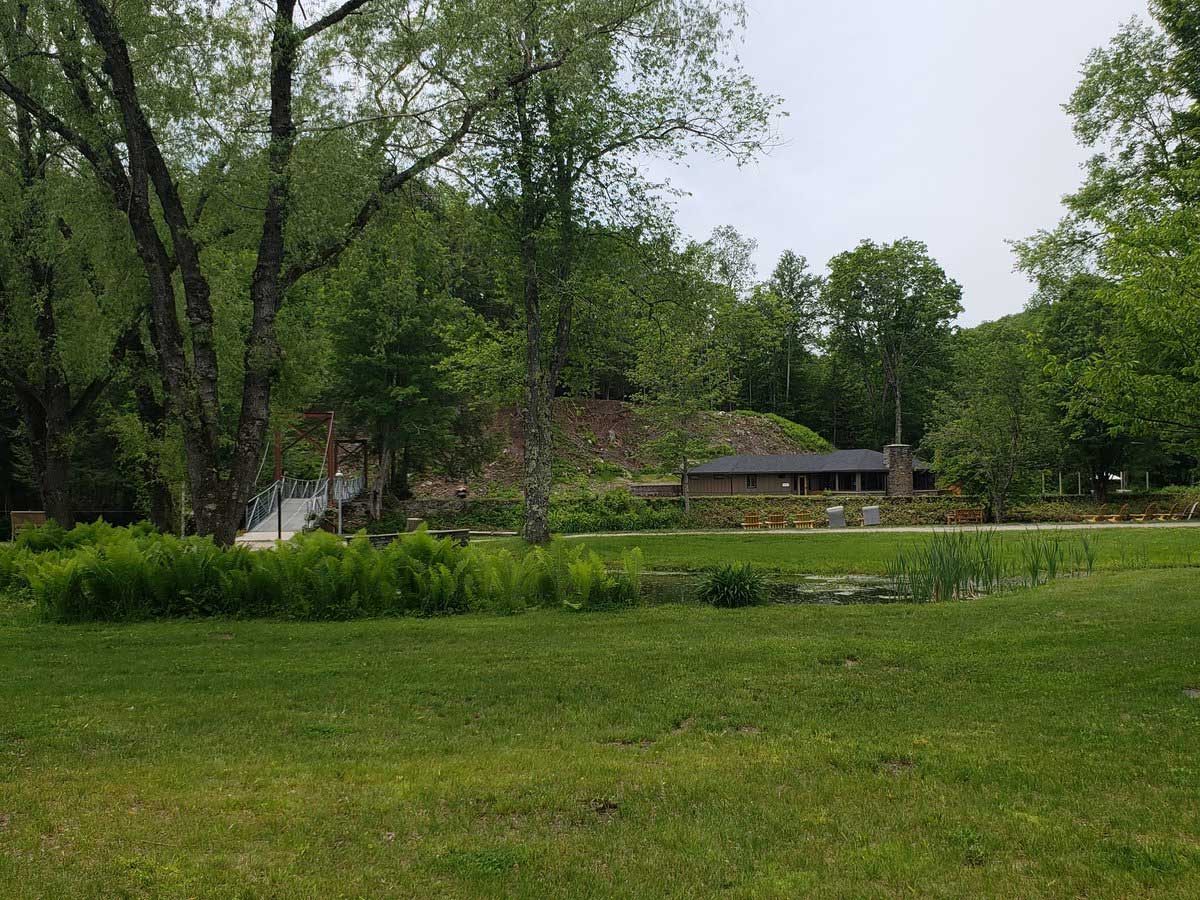 We are the sister property to the historic Antrim Lodge in nearby Roscoe, NY. The Antrim Lodge restoration project is the recent recipient of two grants in the Market NY program and a grant in the Restore NY program of the Empire State Development division of the NYS Department of Economic Development. The Stone Hall, our events pavilion described below, is included in the Market NY grant offering. Those renovations are expected to commence soon.
Only guests can enter through our gates to enjoy the beauty of the property and enjoy our exceptional amenities. The property features a mature apple orchard, 2 ponds, private woods with hiking trails, including one to our private working farm, and ¼ mile of private access to the Willowemoc with contiguous fishing on approximately 1 ½ miles of this renowned trout stream.
Our guests also have access to our private farm, Beaver Lake Farm located at 243 Beaver Lake Road. It is a working farm that raises chicken, turkey, lamb, pigs, and cows for local consumption. Our farmer, Jessica Pykosz, loves to teach people about the animals and the workings of the farm, and private tours are available by contacting her.
All of our accommodations include complimentary continental breakfast sufficient for your stay stocked in your room for your private enjoyment inside the house or cabin, or on your own screened porch, deck or patio. The soon to be completed events center, the Stone Hall, with its open entertaining space, patio overlooking the Willowemoc and wood burning fireplace will be the perfect venue for weddings, corporate events, family reunions and other great events.
Contact us with any questions or feedback you may have. Thank you for visiting our website!
ADA Statement
Antrim Streamside is committed to making our website accessible and easy to navigate for all users. To learn more about how we are working to maximize the Streamside on line experience for persons with disabilities, please click here.
We would like to thank all the people at Victoria Lesser Design Statements, Teb Fink Building, LLC, Buselli Solutions, Rymar Landscaping, Inc. and Everlasting Spring Garden Center who helped to transform this dream into a reality.